Project:
Blend - Handheld food processor
Semester project at ECAL
Year:
2019
Exhibition:
Open Day ECAL, 2019
Photography:
Noé Cotter





Unlike other food processors, Blend has no cables, no charging stations and no messy attachments. As its name suggests it is an essential tool for everyday kitchen tasks without any unneccssary extras. The hole at the top and no cable means it can be stored with all your other kitchen utensils on hooks or in a drawer. The 3 part cordless design makes it easy to clean, charge and incredibly convenient to use anywhere in the kitchen.

Project:
Post - Flatpack natural sofa
Semester project at ECAL
Year:
2019
Material:
Natural latex foam
Coconut fibre
Wool and down
Cotton corduroy
Photography:
Noé Cotter




Post is a solid flatpack sofa designed for a new generation of manufactures selling quality, but affordable furniture directly to customers. Named after the large posts that form the legs, the simplified construction of the frame and cushions make it possible to use high quality, natural and sustainable materials, inlcuding natural latex foam, and coconut fibre commonly used in the mattress industry. It can be posted using standard shipping and easily assembled in a variety of typologies. Its compact size also makes it perfect for shrinking living spaces.


Project:
Sprout - Growing dish
Project for ECAL MADE
Year:
2019
Exhibition:

ECAL MADE, Maison & Objet 2019, Paris, FR
Produced:
PotsFink, Switzerland
Photography:
Noé Cotter
Calypso Mahieu





Sprout is a terracotta dish used for growing and harvesting microgreens such as cress, flax and chai at home on your table all year round. Unlike other growing methods that use soil, seed uses the natural properties of terracotta to absorb water and slowly feed the seeds. The concentric circular pattern that is inspired by ploughed fields also helps the seeds create there own growing medium. Each dish is produced by hand in Switzerland at Potsfink.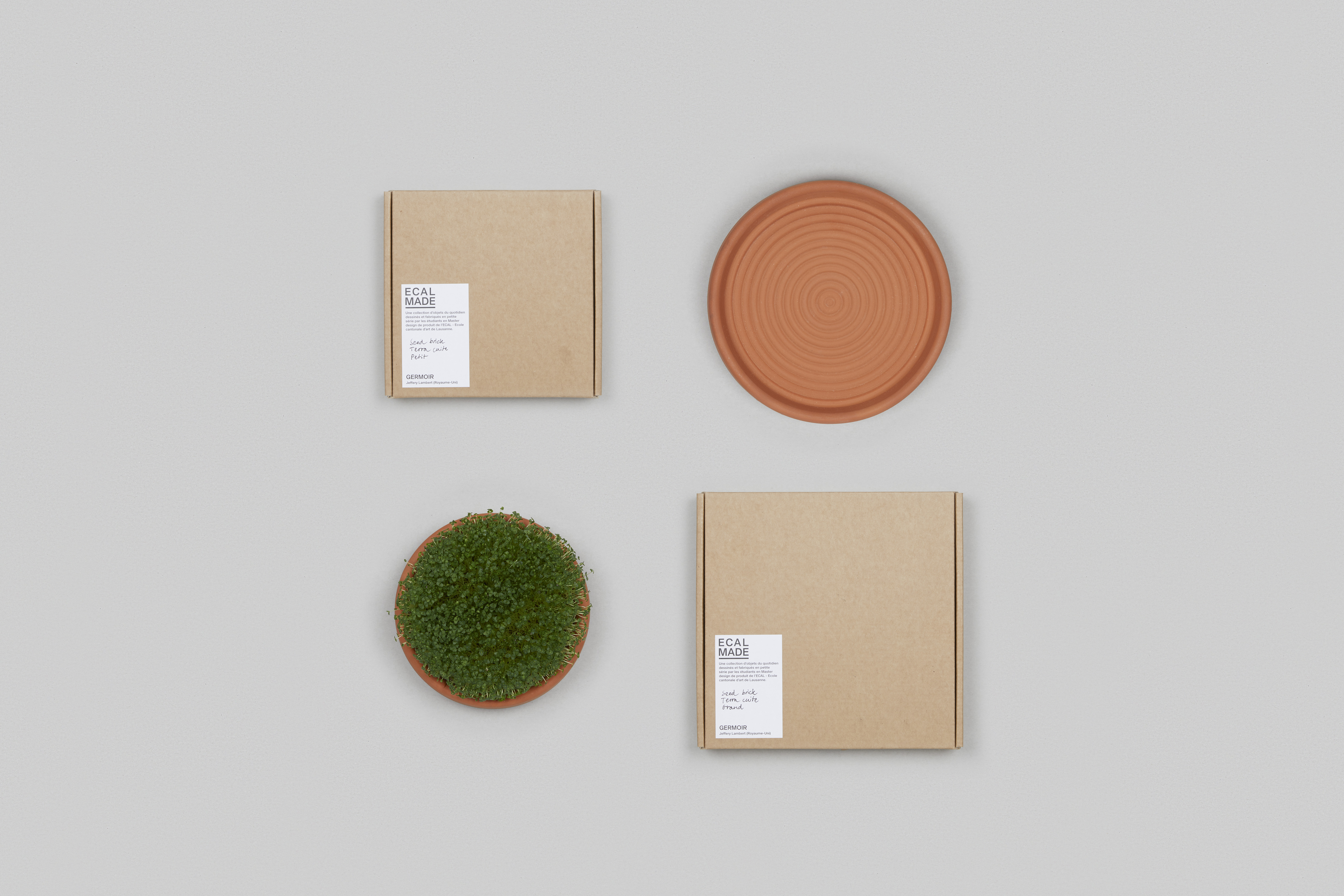 Project:
Nocturnal garden - Lighting installation
Collaboration:
Lausanne Jardins (Ville de Lausanne) x ECAL
with guest tutor Studio Wieki Somers
Year:
2019
Exhibition:

Lausanne Jardins 2019, CH
Permanent installation at Bellfontaine Park, Lausanne, Switzerland
Photography:
Calypso Mahieu





Lighting installation designed for the Lausanne Jardin 2019. The aim was to bring a neglected public space to life, both during the day and at night. Sculptural steel shades were attached to the top of existing light fixtures to create a more dramatic setting and highlight the natural foliage in the park. High gloss metallic car paints and organic rolled forms were Inspired by the carpark that the park is situated on and natural elements ion the park.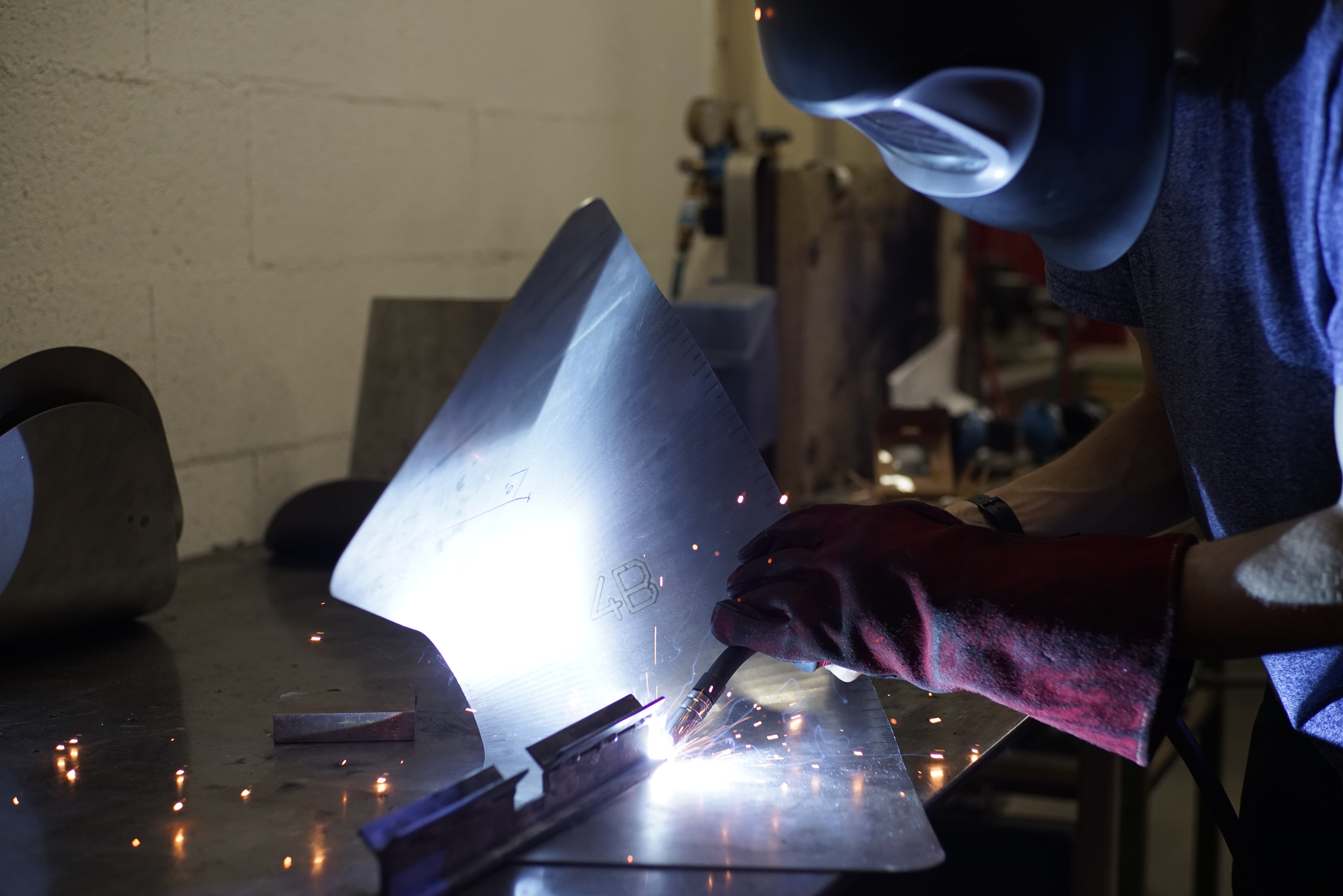 Project:
Shift - A contemporary work chair
Year:
2020
Photography:
Simone Sandahl
Exhibition:
Diplomas at ECAL, CH





As contemporary workplaces continue to transform, recent events have accelerated the shift to a more remote working culture, with more people using shared workspaces and now increasingly working from home. This project aims to create a functional, everyday work chair that is versatile enough to fit these flexible work and living spaces.

Shift is designed around a new production and distribution model that aims to make quality and sustainable furniture accessible to everyone. It is flat-packed, purchased online and its parts are easy to replace or recycle.